Asado Steakhouse Welcomes You
Asado Steakhouse welcomes you.
At Asado, it's our goal to serve a little bit of Argentine life to every hungry customer. Our passion for high quality food and wine is just the beginning of our story; we bring years of experience, the best cooking methods and first-class derive to our vibrant corner of East London. We make the complicated simply with a back to basics approach of only cooking with natural, organic ingredients and the best beef on earth - Asado will please every food lover.
Join us and experience the wonders of our HIGH QUALITY FOOD, FANTASTIC WINE SELECTION and SOPHISTICATED YET APPROACHABLE DINING EXPERIENCE.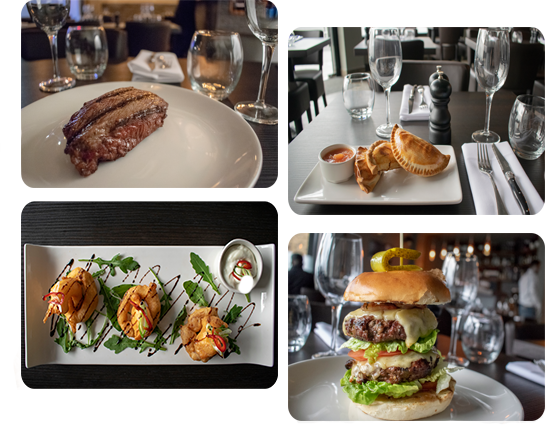 Our Special Menu
The role of a good cook ware in the preparation of a sumptuous meal cannot be over emphasized then one consider white bread

ECUADORIAN CEVICHE
£6.75
Freshly cured shrimp, served with spicy roasted pepper & tomato sauce complimented with avocado

PAN FRIED SCALLOPS
£9.45
Juicy scallops gently pan fried served on celeriac purée and crispy carrots

KING PRAWNS
£8.95
Orange segments, spring onions and chilli

FILLET
£29.95 250g
350g
£37.95
Lean & tender with a delicate flavour

RIBEYE
250g £24.95
350g
£32.95
Delicately marbled throughout for full-bodied flavour

Rump
250g £18.45
350g
£24.95
The leanest cut with a distinctive flavour

Sirloin
250g £21.95
350g
£29.95
Tender yet succulent with a strip of crackling

Medallion Fillet
225g
£27.00
Lean & tender with a delicate flavour 225g

Asado Tasting Platter
600g
£54.95
Rump, Ribeye, Sirloin, Fillet 1 Chips + 2 Sauces

Churrasco Sirloin
£24.00
250g of Lean & tender with a delicate flavour

Asado Ultimate
1000g
£85.85
Rump, Ribeye, Sirloin, Fillet 3 Chips + 3 Sauces

Churrasco Fillet
250g
£33.00
Lean & tender with a delicate flavour

Mixed Grill
£29.95
½ Chicken, Lamb Ribs, Kofte Beef Skewers, Chicken Skewers 1 Chips + 2 Sauces

Chateaubeiand
450g
£52.00
Lean & tender with a delicate flavour

Tira De Ancho
225g
£27.00
Lean & tender with a delicate flavour

Lamb Shank
£17.95
Bed of mashed potato & lamb jus

Spatchcock Chicken
£15.75
Marinated in chimichurri, grilled garlic, lemon + chips

Salmon
£13.95
Pan-fried salmon fillet- creamy mash and spinach

Chicken Caesar Salad
£10.95
Grilled chicken, lettuce, parmesan cheese, croutons

Asado Burger
£15.95
Freshly toasted bun, two juicy 100% beef patties with onion chutney, aioli, cheese, lettuce & turkey bacon + Chips

Beef Burger
£10.95
Freshly toasted bun, with a juicy 100% beef patty with onion chutney, aioli, cheese, lettuce & turkey bacon + Chips

Chicken Burger
£9.95
Freshly toasted bun, chicken breast with onion chutney, aioli, cheese, lettuce & turkey bacon

Thin Chips
£3.25
Hand cut chips finished with thyme. With cheese + £1.00

Sweet Potato Chips
£3.25
Hand cut Sweet Potatos chips

Potato Puree
£3.25
Creamy Mashed potato

Mac and Cheese
£4.50
Bechamel Sauce & cheddar cheese

Button Mushrooms
£3.95
Shallots, garlic, butter

Spinach
£3.95
Sautéed spinach with garlic & lemon

Mixed Salad
£3.95
Mixed leaves, black olives, cherry tomatoes, red radish

SAUCES
£2.00
Peppercorn/Mushroom/Chimichurri

Asado Cheesecake
£6.95
Dulce de leche, finished with mixed berries

Sticky Toffee Pudding
£6.50
Toffee sauce, vanilla ice cream

Chocolate Truffle Cake
£7.25
Biscuit base, vanilla, strawberry

Selection of Ice-Cream
£4.95
Chocolate, vanilla, strawberry

Don Pedro
£9.50
Chocolate, vanilla, strawberry
Enjoyed your stay at Asado's? Share your moments with us. Follow us on Instagram #asado_steakhouse